Food systems affect human health through a variety of pathways. Unhealthy diets are the most obvious link. Food insecurity is also a reality for many people around the world, leading to debilitating health impacts like stunting. Some of the biggest threats to human health result from the impacts of food and farming on the environment. These include pollution of drinking water with nitrates and endocrine disrupting chemicals, nitrogen-based air pollution, and the spread of antimicrobial resistance via intensive livestock production. Meanwhile, farmers, farm-workers, and food-workers face a range of severe occupational health risks, from pesticide poisoning to stress-driven mental health impacts, that are too often overlooked.
IPES-Food explores the range of food-health linkages, how power affects these impacts, and the question of how to redesign food systems for healthy people and a healthy planet.
October 2017 |
Health
Unravelling the Food–Health Nexus: Addressing practices, political economy, and power relations to build healthier food systems
January 2018
Industry-sponsored science is clouding the picture of how food systems impact health
in "For whom? Questioning the food & farming research agenda"
In January 2018, IPES-Food's contributed to the special edition magazine of the Food Ethics Council. The chapter considers how the current structuring, framing, and financing of scientific research bears on our understanding of the health risks generated by food and farming systems.
Read the chapter (EN)
January 2018
Advancing equity, equality and non-discrimination in food systems: Pathways to reform
UNSCN News 43
In a chapter for UNSCN News entitled "Framing the nutrition problem: The political-economic obstacles to healthier diets", IPES-Food Panel Member Cecilia Rocha examines issues holding back our understanding of health impacts and our ability to address them.
Read the chapter (EN)
December 2018
Gutes und hochwertiges Essen für alle
Wiener Zeitung | Olivier De Schutter & Thomas Waitz
May 2018
Rebooting food: Finding new ways to feed the future
Reuters | Thin Lei Win
December 2017
A healthier debate is the key to healthier food systems
Food Tank | Interview with Nick Jacobs
November 2017
L'alimentation «low cost» coûte très cher !
La Libre | Olivier De Schutter
October 2017
Expert panel identifies unacceptable toll of food and farming systems on human health
Ecologist | Georgina Downs
October 2017
Obesity linked to agricultural policy, new studies say
EU Observer | David Burrows
August 2017
Agroecology as a means to transforming food systems for health, nutrition and equity in a climate changing world
Barilla Centre for Food & Nutrition
July 2017
Promoting food security and health in a climate changing world
Barilla Centre for Food & Nutrition
February 2017
Time to put a Common Food Policy on the menu
Politico | Olivier De Schutter & Carlo Petrini
January 2017
PODCAST | Episode 210 'The Promise of Agroecology'
'What doesn't kill you' | Molly Anderson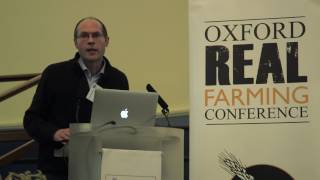 October 2018
Oxford Real Farming Conference opening plenary
Oxford Real Farming Conference opening plenary